---
Van Ramps
Our van ramps come in two styles and three widths and in many cases are much less expensive than van conversions or hydraulic lifts.
Compare two options:
$70,000.00 Conversion Van Pictured for comparison only – not sold by Roll-A-Ramp
$1,400.00 for a Roll-A-Ramp An affordable option – fits into many factory vans.
OUR VAN RAMP OWNERS LOVE THE FOLLOWING FEATURES:
Strong: aerospace aluminum has 1,000 pound capacity
Safe: Superior engineering and excellent traction
Flexible: 26"/30"/36" widths
Quality: Unconditional 10-Year warranty on ramp (one year warranty on motor for powered systems)
USES:
Wheelchairs and Scooters
Delivery Vehicles
Fleet Vans
Handicap Transportation Organizations
Roll-A-Ramp® offers two kinds of van ramps
Manual Folding Van Ramps
A manual van ramp stowed
The perfect van access solution for those looking for an economical option for wheelchair or scooter ramps. The manual folding ramp folds out of the van door to the ground.
Powered Folding Van Ramps
Powered van ramps are affordable because they can fit into many existing vans with only 2 – 4 hours of installation time. There may not be a need to buy an expensive conversion van. Because van styles and models are changing every year, please call us or one of our excellent dealers to determine if your vehicle is compatible with our ramp.
Ford Transit Connect/Dodge ProMaster City/Nissan NV 200 compatible
Side view of powered ramp. Starting at $2,595.00.
Powered ramp occupies approximately 1 foot of interior space.
---
Modular Ramps
If you're looking for a ramp to get into your home or business you can order a complete kit that includes everything you need.
Welcome to the Roll-A-Ramp® Modular Ramp System! Available ramp sizes for modular kits in 30″ and 36″ widths, modular ramps begin at 5′ in length up to 30′ Call us if you need a longer ramp and we'll work with you.
The Roll-A-Ramp® Modular Ramp System can be configured to any length needed. This is an excellent alternative to building a permanent wooden ramp and a good option for wheelchairs, walkers, scooters, or any accessibility need. Unlike some ramps, where once you reach a 10-foot length you are limited to a modular system designed to stay in place, the Roll-A-Ramp® gives you the versatility of having a portable system at any length! Longer ramps are easily split into multiple sections. In most situations, you will not need a building permit to place a ramp in front of your home because the ramp is portable and does not alter the permanent structure of the home. Handrails can be added to one or both sides. Using platforms (small landings) you can create a ramp that has a 90 degree angle turn.
Available Ramp Sizes (each width can be built to any length in 1-foot increments)
30-inch wide
36-inch wide
Freedom Regained through Accessibility
Whether you are staying put or on the go, Roll-A-Ramp® is less costly than lifts and elevators, permanent wood or concrete ramps – and much more versatile.
Our custom platforms allow the ramp to turn at a 90-degree angle.
Typical system may include:
One long ramp or multiple shorter ramps
Handrails
Adjustable Support Stands
Quick Release Pins
Support Stands for ramps 11′ and longer (placed at 6′-7′ increments)
Platform w/handrails
Features:
Easy set up and take down – or leave in place
Rolls up and is always portable
Lightweight yet extremely sturdy and durable
Can be configured as multiple ramps in one – ask how!
10-year unlimited warranty on ramp
Learn more about our Home Ramp Modular Systems by downloading the Modular Ramp flyer.
---
Home Ramps
The Roll-A-Ramp® home ramp is versatile and portable, can be configured to any length, and is available in 12″, 22″, 26″, 30″, 36″, and 48″ widths. An excellent alternative to building a permanent wooden or concrete ramp, Roll-A-Ramp® is a great option for wheelchairs, walkers, or scooters. Whether you need a safe, sturdy, highly-engineered ramp for a few stairs or a more complex ramp with handrails and platforms, Roll-A-Ramp® is more affordable and versatile than lifts or elevators. Thousands of people across the country and around the world use Roll-A-Ramp® to live more independent lives.
Our ramps can be designed to comply with the Americans with Disabilities Act if desired. But as portable ramps they are not required to be ADA compliant.
Our home ramp customers love the following features:
Easy to set up and take down – or leave in place
Can be configured to comply with Americans with Disabilities Act
Our portable ramps do not require building permits
Rolls up and is always portable
Lightweight yet extremely sturdy and durable
10-year unconditional warranty
---
RV and Trailer Ramps
Join countless RV and trailer owners who get on the road every year with our portable ramp system for RV and trailer use.
The Roll-A-Ramp Portable RV System is the only portable ramp system for RVs and trailers. Our ramp owners love how versatile and durable the ramp is. Buying an RV and Trailer Ramp can make it possible for millions more people to enjoy the open road. Excellent option for mobile clinics, mobile studios/stores, etc.
Hit the road without the burden of figuring how to get in and out of your RV!
Before Roll-A-Ramp
After Roll-A-Ramp
OUR RV AND TRAILER RAMP CUSTOMERS LOVE THE FOLLOWING FEATURES:
Set up can take as little as 20 minutes
The portable ramp can be easily stored in the RV between stops
Affordable: No expensive electric or hydraulic lifts
Strong: Superior engineering and design for a safe, sturdy ramp
1000 pound load capacity for scooters and wheelchairs
Flexible: Add sections to make the ramp longer
Quality: 10-year unconditional warranty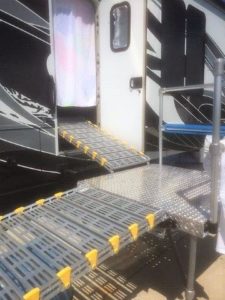 Class-A Motor Coach System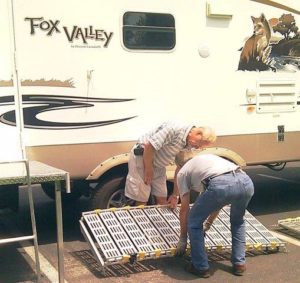 Easy sets up and stores in sections.
---
Commercial Ramps
Roll-A-Ramp® is an excellent solution if your company needs commercial ramps.
All commercial ramps are easy to store and take little time to set up. Our safe, non-skid design prevents accidents and makes it easy to roll dollies or carts up and down the ramp. Ideal for trucks that don't have lift gates, movers love our ramps because they are light and safe. Those in the entertainment industry use Roll-A-Ramp® to load and unload equipment from trucks. Commercial ramps can be extended or shortened very easily.
No other ramps on the market match Roll-A-Ramp® for warranty, ease of use, and value.
AVAILABILITY:
Available in 12″, 22″, 26″, 30″, 36″, and 48″ widths. New: Some commercial clients are taking advantage of Roll-A-Ramp® HD.
OUR PORTABLE COMMERCIAL RAMP OWNERS LOVE THE FOLLOWING FEATURES:
Lightweight and portable
Can support up to 1000 pounds
Reduce workers' compensation claims by providing a safe alternative to lifting
Add or remove links when different lengths are needed
Made of 6061 aerospace aluminum, our ramps will not rust or corrode in rain or snow
10-year warranty
---
Boat Ramps
Boat ramps are available in 12″, 22″, 26″, 30″, 36″, and 48″ widths and are popular with tour operators and private boat owners and is ideal for loading or unloading passengers, pets, and supplies. Use Roll-A-Ramp® boat ramps as a gangway from dock-to-shore, dock-to-boat, boat-to-boat, or riprap-to-boat. Roll-A-Ramp® can be used as a fully portable gangway and because it is constructed from aerospace grade aluminum, saltwater is no problem!
OUR CUSTOMERS LOVE THE FOLLOWING FEATURES ON OUR BOAT RAMPS:
Ramp rolls up and is fully portable
Aerospace 6061 aluminum with a T6 Rockwell hardness
Strong and lightweight – supports up to 1,000 pounds
Will not rust or corrode
Flexible – add ramp sections as needed
Handrails (optional)
10-Year unconditional warranty on boat ramp
---
ATV and Motorcycle Ramps
Our ATV ramps come as a pair of 12″ ramps (twin-track) designed to help you load an ATV easily into a truck or trailer. Just roll the ramps out, drive the ATV into the bed of the truck, roll up the ramps, and drive away. Our ramps were featured on Tools in Action. Check out the video – you'll know everything you need to know.
Motorcycle Ramps:
For the motorcycle enthusiast, sometimes the biggest challenge is loading a motorcycle in the back of a pick-up. You set up your homemade motorcycle ramp or a store bought motorcycle ramp, but neither gives you the confidence to do it on your own so you ask a friend or two (or three) to spot you. Then you have to store the motorcycle ramp in the bed of your truck, being careful not damage your motorcycle.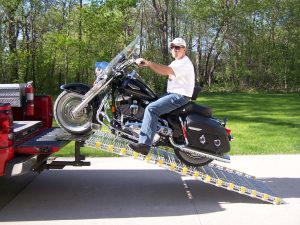 The ground-breaking Roll-A-Ramp® motorcycle ramp
How would you like a motorcycle ramp you can roll out, ride up and store safely out of the way of your bike? When a friend needs to borrow it, simply remove the hitch pin and remove the system to slip into his receiver. It's that simple!
Features:
Very easy to use – rolls out for use – rolls up and stows for travel
Supports 1,000 lbs
System remains securely in place with the tailgate closed
No load on the tailgate – weight is distributed through the hitch bracket system
Ramp is removable in seconds for use as a stand-alone ramp
Aerospace 6061 aluminum construction means it is both lightweight and very strong
Patented slotted link design means it has both superior traction
9′ ft x 36" ramp provides plenty of room to use your feet for balance
Trust your bike with nothing less!
---
Airplane Ramps
Roll-A-Ramp® has been used by both charter and public airlines for passengers at destinations without jetbridges.
Our jet ramps are light enough for small jets or private aircraft to bring with them and because they're made of 6061 aerospace aluminum with a T-6 hardness they can support up to 1000 pounds. Because circumstances and aircraft designs vary, please call us so we can make sure your jet ramp meets your specific needs.
Our jet ramp customers love Roll-A-Ramp® because their ramps are
Light enough to bring on the jet to remote destinations
Easy to assemble
Strong enough to support passengers and gear
protected by an unconditional 10-year warranty