Transfer Seat Base
---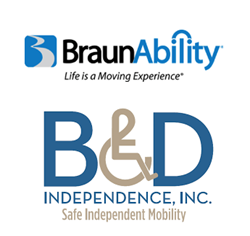 Comfort Series C61
6-Way Transfer Seat Base
Driver or Front Passenger position
Utilizes OEM seat
OEM seat functions are maintained
Transfer Seat Base mounts to the OEM floor mounting holes and "L" Track
No drilling required on most applications
The second-row seating area remains open
Passive Interlock System provides safety during vehicle operation while providing limited adjustments to improve driving comfort.
Can be driven in any up/down position
Can be driven up to 4" back from the full forward position
Adjustable rotation speed
Improved stability
Attractive bellows conceal scissor legs for improved safety and appearance
Choice of side-mounted switch box or coiled cord handheld pendant
Specifications
Travel Horizontal: 19.5"
Travel Vertical: 6.375"
Swivel: 100°
Weight Capacity is 500 lbs. (Occupant)
Dimensions
Length: 36.25″
Width: 13″
Down Height: 6.875″
Optional Features:
Attractive bellows conceal scissor legs for improved safety and appearance
Additional Switch Control of your choice (switch box or handheld pendant)
180° Swivel
Three Color Options:
Choose from charcoal, light gray, or tan to match the interior of your vehicle.
Leadership 75
The L75 is a 4-Way Transfer Seat for Chrysler, Dodge and Toyota Minivans that have been converted for rear entry or not had the floor altered. A 4-Way Transfer Seat Base moves forward and back and turns towards the center of the van. It does not raise up and down.
Specifications
Travel Horizontal: 35" to 37"
Swivel: 100º
Weight Capacity: 500 lbs.
Dimensions
Length: 55 1/4″
Width: 10 1/2″
Down Height: 3 5/8″ to 5 5/8″
Three Color Options:
Choose from charcoal, light gray, or tan to match the interior of your vehicle.
Safety System
The B&D Independence Passive Interlock is designed with your safety in mind. It is standard on all Comfort 61 Transfer Seat Bases.
The Passive Interlock ensures that the Transfer Seat Base is returned to the driving position, which allows the Seat Belt and Air Bag Systems to function as designed.
Once the vehicle is in operation the Interlock prevents the Transfer Seat Base from moving accidentally.
For your comfort, the driving position offers a range of crash tested positions. This range includes:
Any up/down position
Between 0″ and 4" back from the full forward position
The Passive Interlock System includes an override switch placed below the switch box which is mounted on the Transfer Seat Base.
In the event of an emergency, the override switch can be activated to move your Transfer Seat Base when the vehicle ignition is on, allowing you to readjust your position or relocate the Transfer Seat Base to a transferring position.
An audible indicator will sound during the duration of the override's use; the audible indicator will also sound to alert you when the Transfer Seat Base is not within the Driving position.
---
BraunAbility Turny Evo
Get Seated Easily and Safely
The BraunAbility Turny Evo mobility seat is the #1 selling1 handicap vehicle transfer seat for SUVs, trucks, and vans that moves completely outside the vehicle and lowers it down to your desired level. This makes it easier for you to sit down or transfer from a wheelchair. Once you're seated, push a button and the Turny Swivel Car Seat will lift you inside the vehicle. It's a simple yet very effective way to make your truck or SUV more accessible.
• Lower Seat to Your Desired Height
• One-Button Activation
• Passenger, Driver or Mid-Row Installation
For Use with Included Comfort Seat or with the Original Vehicle Seat
The aftermarket Comfort Seat preserves the original vehicle seat to be easily reinstalled later and comes with a full recline with levers on both sides of the seat. Original seating options are available on a select listing of vehicles. See your dealer to check which vehicles apply. Both the Comfort Seat and original seat feature the following:
• Weight Capacity: 370 lbs.
• Position: Driver or Passenger Side
• Location: First or Second Row
Install In Your Own Vehicle
The BraunAbility Turny Evo transfer seat lift gives you an accessible vehicle solution on over 200 different makes and models of trucks, vans and SUV crossover vehicles. Even more, the installation of the BraunAbility Turny Evo mobility seat is completely reversible and will not affect the resale value of your vehicle. This seat can also be removed and the original seat reinstalled.
BraunAbility Turny Evo Seat Features:
• Fully powered: rotates, extends, moves up and down
• Power forward and backward
• One-button operation via hand-held control or optional smartphone app
• Integrated flip-up footrest
• Ultra-quiet operation
• Travel time takes 35-65 seconds depending on seating position and vehicle application
• Original seat is removed and unmodified; easily reinstalled
• Manual backup system for peace of mind
• Eligible for applicable automotive manufacturer rebates
• 3-year limited warranty (3-year parts/1-year labor)
• OEM seat application available on select chassis types
Optional Accessories Include:
• Two material types - smooth and textured faux leather
• Six color options
• Heated or non-heated
• Armrests (single or dual)
• Bluetooth remote and smartphone application
• Child Latch bracket kit
• Posture vest kit
• Padded hip belt kit
• Vehicle Types:
• Full-size vans
• Pickup trucks
• Most SUVs and minivans
• Fits over 200 vehicles
Not Just for Wheelchair Users
Getting seated in a vehicle can be tricky even if you don't have a diagnosed disability. Having a vehicle seat free from the confines of a vehicle that can lower to a comfortable height means easier entry and exit. This seating solution puts you in the front seat to experience the ride as a driver or designated co-pilot, to enjoy a conversation with the person next to you, plus the freedom to access the vehicle's controls for a comfortable ride.
Reduce Risk of Falling
The BraunAbility Turny Evo vehicle transfer seat reduces the risk of falling or other injury when entering or exiting a vehicle so you don't need to stress about getting to where you need to be. Not only are you safer, but you can feel more confident knowing you are in control.
Transfer To and From Your Wheelchair
When transferring to and from the BraunAbility Turny Swivel Car Seat, you can do so completely outside the vehicle. Even better, the Turny Evo handicap vehicle transfer seat can lower the seat to your level. This means that it doesn't matter if you're transferring from wheelchair to seat or seat to wheelchair, you can always transfer to a lower point.
Increase Independence
The BraunAbility Turny Swivel Car Seat for SUVs, trucks and other vehicles is perfect for independent drivers and caregivers alike. A rotating seat lift allows individuals who normally struggle to enter or exit a vehicle, to do so in a safe and controlled manner.
Transfer with Ease
As a caregiver, the lifting of a child or adult in and out of the car plus the needed twisting motion puts stress and strain on your back. Over time, the risk of bodily injury to you and your loved one increases exponentially. The BraunAbility Turny Evo mobility seat will allow you to perform ergonomic lifts and save your back.
---
Link
Innovative Vehicle Access
Innovation
The LINK's innovative design is in a league of its own. A sleek, safe, reliable and intuitive turning and lowering seat base, the LINK gives you your vehicle, your way. No compromises.
Legroom & Comfort
The LINK always uses the original seat so you can keep the comfort, feel and style of your interior. The LINK's customizable transfer path maximizes clearance for stress-free transfers in and out of the vehicle and customizable seating positions ensure safety and comfort. The LINK's unobtrusive footprint lets passengers behind the LINK keep their space too!
Control & Safety
The LINK's easy hand pendant allows the user to tilt the seat and slide it forward or back to find the perfect spot. It's designed for safety to prevent the LINK from moving inadvertently.
More Features
If you're looking for assistance standing, the LINK will lift up once outside the vehicle with just a small change to its programming. The LINK is powered by your vehicle and will not drain the battery thanks to its unique electronic SLEEP MODE. For peace of mind, the LINK has a manual emergency backup system. The LINK has a 350-pound capacity and a 3-year limited warranty.
Installation
The LINK is installed into the original seat mounts of your vehicle with no structural modifications. Available applications include the driver and front passenger in a vast array of vehicles, as well as mid-row positions in many minivans. It can easily be removed to return the vehicle to its original condition without affecting the resale value.
Asento - XL-Seat
Simple Transfers
Simplicity
Accessibility and simplicity blended into one, unique mobility solution. A transfer board that takes you from the floor of the vehicle up to the driver's (or passenger's) seat. Complete with a retractable support arm and an easy-to-use hand pendant.
Comfort & Flexibility
The original seat remains intact. The compact unit does not affect any of the seat features, including the recline, or forward and aft movements. The transfer board can be removed to allow easy access to other drivers.
Evolution
The XL-SEAT has been delivering simplified mobility for well over a decade. The ASENTO is the evolution of the XL-SEAT. This narrower and more compact version of our signature product is our solution to the ever-evolving vehicle industry.
More Features
The slightly cushioned, vinyl covered transfer board travels between the floor of the vehicle and its OEM seat and can be stopped at any height to allow specific transfer heights. Both the XL-SEAT and ASENTO are durable with a 275-pound capacity and a 3-year limited warranty.
Options
Designed for the driver and front passenger positions in Minivans, Pickup Trucks, SUV's and some Crossovers with no structural modification to your vehicle. The ASENTO can be installed with the SPEEDY-LIFT. The XL-SEAT offers two solutions to get your wheelchair into your minivan via the sliding door: the HI-LIFT or the SPEEDY-LIFT.
XL-Base
Pivoting & Lowering Seat Base
Straightforward
The XL-BASE skilfully turns and lowers the original seat out of the vehicle. Its concept and design make it reliable, safe and easy to use.
Comfort & Simplicity
You always keep the original seat and therefore can enjoy the luxury and look of your vehicle. The XL-BASE offers gentle, consistent travel with remarkable legroom all the while leaving your passenger seated behind the XL-BASE unaffected.
Convenience
The motions of the XL-BASE can be stopped at any time simply by releasing the button. This allows you to chose your ideal transfer height. The seatback still reclines completely, offering additional comfort and flexibility.
More Features
The distinct, mechanical design of the XL-BASE includes an emergency backup system, a rugged 350-pound capacity and 3-year limited warranty. The power is supplied by your vehicle and an optional footrest & armrest are available.
Installation
The XL-BASE is designed to fit into the front and center passenger positions of most minivans with no structural modifications to your vehicle.